---
Katie Yap
violist & curator
---
About
Modern and baroque violist Katie Yap plays regularly with Australia's finest ensembles including the Melbourne Symphony Orchestra, Van Diemen's Band, Australian Chamber Orchestra, Australian World Orchestra, Australian Brandenburg Orchestra, and has joined groups like the Academy of Ancient Music overseas. Her greatest love is chamber music, and she is a founding member of prog-baroque quartet Croissants & Whiskey, the Chrysalis Harp Trio, and crossover folk/baroque group Wattleseed Ensemble.Katie is fascinated by music's ability to tell stories and bring people together. As the 2022 Freedman Fellow, her project Multitudes explores the nexus of folk, baroque, and new music styles, and a life-long fascination with improvisation. She will create four new works through collaborative composition with partners in crime Emily Sheppard (fiddle/voice), Donald Nicolson (harpsichord/electronics), Bowerbird Collective (violin and cello), and Mindy Meng Wang (guzheng), exploring themes of cultural identity, environmental storytelling and activism, and the physical joy of music-making.Katie has become known for her curation and project management, and she explores this side of her career through her role as Artistic Director of the 3MBS women-in-music festival, Music, She Wrote and Wattleseed Ensemble. She is also a passionate educator, having taught viola at the University of Queensland and Monash University, and she has an intractable habit of stress-baking, which can make for delicious rehearsal breaks!
Projects
3MBS's festival celebrating women in music
March 29-31, Alpha60 Chapter House
Freedman Fellowship project
Collaborative composition, recording and concerts
Melbourne-based early/folk/new music crossover group
Touring regional Victoria in September 2023
Prog-baroque quartet exploring shared improvisation styles
Music
Aftermath (Emily Sheppard)
In My Solitude (Andrew Ford)
Sonata no. 1 in D major (G. F. Handel)
liebeslied (Matt Laing)
---
Words
For Loudmouth Magazine, 2022
---
Images
Contact
---
Mailing List sign up
I send out email updates 3-4 times a year - sign up here to get them in your inbox!
Music, She Wrote
3MBS' Festival celebrating women in music
March 29-31, Alpha60 Chapter House
Presented by 3MBS and led by Artistic Director, Katie Yap, Music, She Wrote is a festival celebrating women in music. Since its inception in 2021, we have proudly presented the finest local chamber musicians in diverse programs of classical, jazz, and folk music by female composers. It is our mission to tell women's stories in our own voices, and to show that inclusion never has to mean settling for second best.
The 2023 festival will be held from March 29-31 at Alpha60 Chapter House, in the heart of Melbourne's CBD.
Our world is filled with contradictions: technology affords us the opportunity to be the most connected we've ever been, yet we are the loneliest society that has lived. We proudly say we are a global, multicultural community, and yet there are barriers everywhere we turn. Our own identities are fractured, containing multitudes, yet struggling to create a single whole.Multitudes is a response and an antidote to these breakdowns in connection. Storytelling is one of humanity's greatest tools; my vision is to tell my own story through live creation, active participation, and genuine, vulnerable sharing of an intimate space with collaborators and audience.Multitudes involves the creation of four new works through collaborative composition and improvisation. Each will be based on one of Judith Wright's bird poems, which my mother introduced to me, along with a love of birds themselves.
---
Wattleseed Ensemble
Melbourne-based collective Wattleseed Ensemble brings some of Australia's most exciting young performers together, combining their expertise on period instruments with wide-ranging repertoire and a love of storytelling through music.After their debut in the midst of the COVID pandemic at the online Port Fairy Spring Music Festival in November 2020, they have performed for Musica Viva Australia, the Melbourne Recital Centre, and the 3MBS festival Music, She Wrote. In March 2022 they embarked on a thrice-postponed tour, HOME: a concert that explores the incredibly diverse, yet unifying concept of home that each person, and each piece of music holds. At its center is the premiere of a new work by Melbourne-based composer Matt Laing, an ambitious and thought-provoking piece based on the changing environment of the Fleurieu Peninsula in South Australia.They will be bringing their new program, Rejuvenation, to regional Victoria in September 2023.Wattleseed's raison d'etre is to bring diverse audiences together in harmonious contemplation of music, and the things that make us human. From Hildegard von Bingen, they flow seamlessly into the high Baroque, folk music and contemporary Australian works, creating fascinating and intimate sound worlds.
Croissants & Whiskey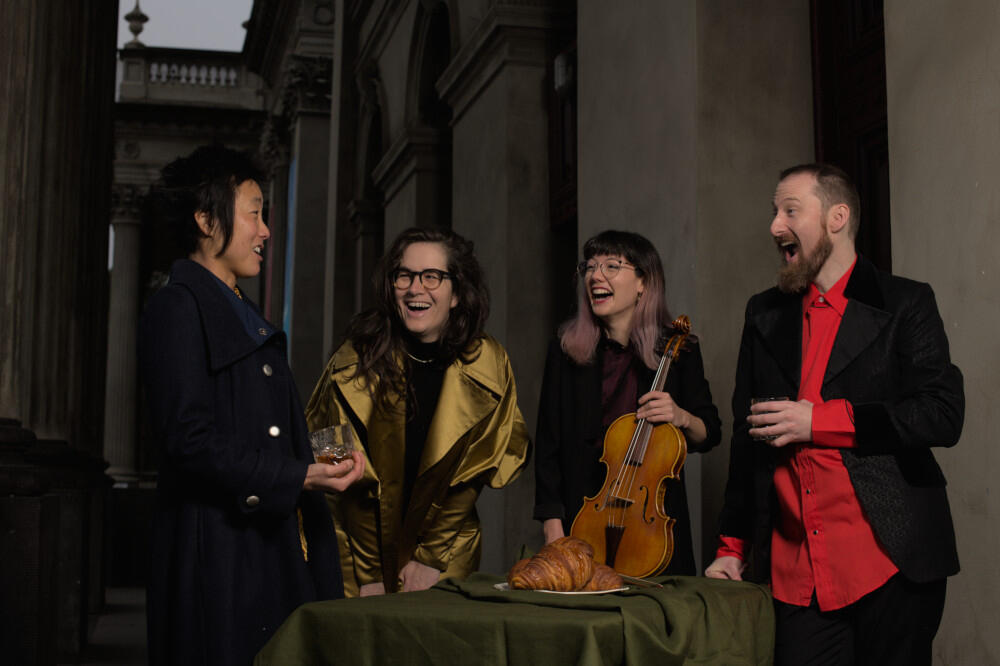 Combining four of Melbourne's most versatile and in demand musicians, prog-baroque quartet Croissants and Whiskey brings a new energy to old instruments.
An unconventional blend of Harpsichord, G Violone, Baroque Viola, and Recorders creates new and unexpected timbres, blending the sonorous with the sharp, and making the old new again. Performing both baroque and modern compositions, Croissants and Whiskey is currently commissioning new works from diverse Australian voices, including an upcoming recording of Elizabeth Younan's The Fertile Crescent for the ABC Composer Commissioning Fund.
Formed during 2020's stage 4 lockdown, Croissants and Whiskey is named from the refreshing libations at those first joyous post-pandemic rehearsals. Joy Lee, Ryan Williams, Katie Yap, and Miranda Hill bring musicality, focus, and humour to their work, making any performance one not to miss.
Individually, Joy, Ryan, Katie, and Miranda have performed with Australia's elite ensembles, including: Elision, Australian Brandenburg Orchestra, Australian World Orchestra, Inland Concerts, Astra, Melbourne Baroque Orchestra, Arcko, Australian Romantic & Classical Orchestra, Homophonic! Genesis Baroque, and the major Symphony and Opera Orchestras.
Musica Viva Australia
Futuremakers